Supplier resource center

Supplier handbook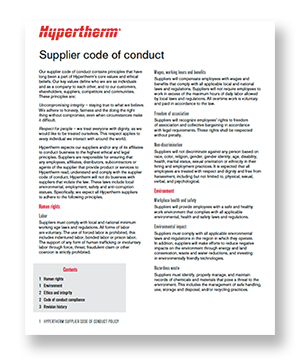 DOWNLOAD CODE OF CONDUCT
PDF (149KB)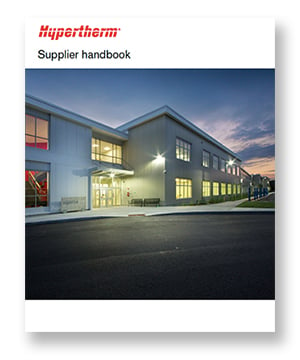 DOWNLOAD HANDBOOK
PDF (3.8MB)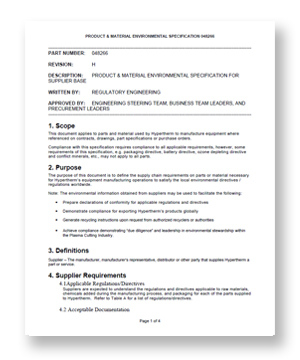 HYPERTHERM'S ENVIRONMENTAL SPECIFICATION
PDF (42KB)
Find information on what you can expect from Hypertherm Associates and what will be expected of your organization in our business relationship. This enables your organization to begin planning and investing now to fully understand and comply with all aspects of our supplier management program.
Table of contents:
Supplier philosophy
Supply chain transparency
Confidentiality
Conflict minerals
Environmental specifications
Safety critical components
Hypertherm's Supplier Management Program
Gerneral expectations
Supplier scorecard
Hypertherm's pull-based system
Accounts payable
Return to supplier
Packaging guidelines
To the extent applicable, all parties agree that they will abide by the provisions 29 CFR Part 471 Appendix A to Subpart A. Additionally, this contractor and subcontractor shall abide by the requirements of 41 CFR §§ 60-1.4(a), 60-300.5(a), 60-300.10 and 60-741.5(a). These regulations prohibit discrimination against qualified individuals based on their status as protected veterans or individuals with disabilities, and prohibit discrimination against all individuals based on their race, color, religion, sex, sexual orientation, gender identity, or national origin. Moreover, these regulations require that covered prime contractors and subcontractors take affirmative action to employ and advance in employment individuals without regard to race, color, religion, sex, sexual orientation, gender identity, national origin, protected veteran status or disability.
Become a Hypertherm Associates supplier
If you are interested in becoming a Hypertherm Associates supplier, complete and submit your supplier information.